YupTools Recover for Android™
Quick Recovery of deleted pictures, songs, videos, emails, etc. from Smartphones
Ingeniously scans internal as well external storage device of Android gadget
Restore lost files and applications from various Tablets and Phablets in few clicks
Compatible with all Android OS versions on major Windows Operating Systems

Download


Buy Now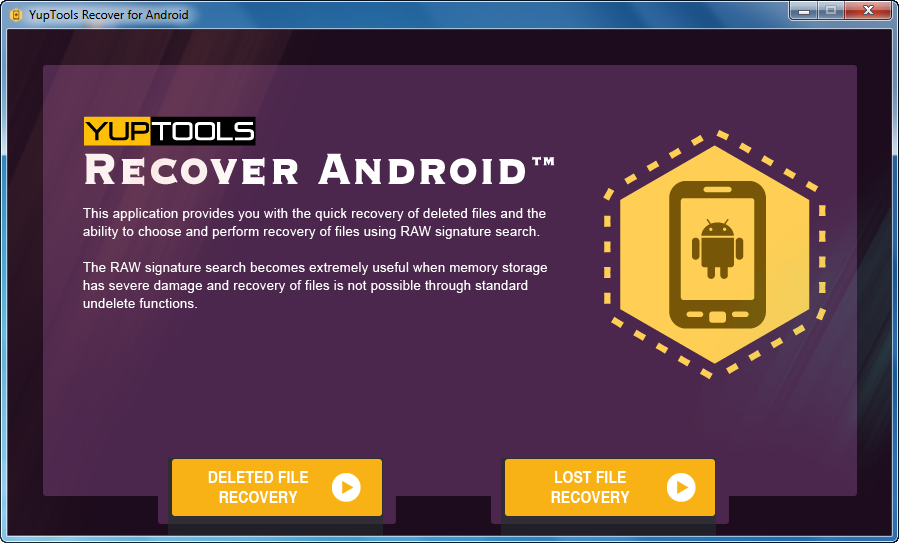 Overview
Smartphone is the most popular gadget that replaces usage of both mobile phone and laptop with one. Running with Android Operating System, Smartphones and Tablets are ruling the present technology world. Android phones have made easy the job of voice calling, video calling and email communication within a single device perfectly. Users preserve memorable pictures, recorded video files, movies, contacts, emails, applications and many more on Android Smartphones to access it at required times. If any of these important files goes missing or get deleted from Android device then it is very disappointing. Nevertheless, files from Android gadgets lost or deleted in numerous ways can be retrieved back with the use of Android Recovery tool.
Features and Scenarios
Significant Features:
Well designed with superior Android recovery methods to perform quick recovery of lost and erased files from Android devices in fraction of minutes
Built-in read-only recovery module ensure safe restoration of data like text messages, images, emails, etc. with much ease
Protected from harmful viruses and other internal threats and found to be free from it; hence, many industry experts have regarded this application as completely safe-to-use
Performs deep scan of Android phone's internal storage memory, in which files are inaccessible due to vivid reasons
Capable of retrieving digital media files of various file types like JPG, PNG pictures; AVI, MOV videos; AIFF, MP3 audio files, etc., with ease
Efficient to restore data from Android phones after formatting, resetting, etc.
Can bring back files from Smartphone models like Samsung, Acer, Dell, LG, Motorola, Sony etc.
Supports recovery of data from Android Froyo, Ice Cream Sandwich, Ginger Bread and Jelly Bean OS based Smartphones and Tablets
Compatible on Windows computers functioning with Windows 8, Windows 7, Windows XP etc.
Android data go missing in following situations:
Unintentional deletion of files – As Android phones does not include Recycle Bin feature to hold deleted files, accidental deletion of required files will give rise to complete loss
Resetting the phone – Without backing up necessary files from Android phone, performing phone reset will erase all data present on both internal as well as external memory of the phone
Android Phone Rooting – Rooting is the process of accessing administrative functions of a phone in order to install any updated OS or other stuff. However, by rooting Android phone, files may go missing from the phone
Intrusion of malware – Harmful virus attack to Android gadgets or to the SD memory card mounted on it, will make all its files out of reach
Formatting the SD card – Unintentionally formatting SD card of Android phone without possessing proper backup will also lead to removal of entire data
Installing Unsecure applications – By installing unauthentic apps on Android gadget may sometimes cause loss of user's data without giving any hint
Why Us?
YupTools Recover for Android is developed by skillful and professional data recovery experts. This software do not alter the file contents during recovery process, thus ensures secure way of retrieving lost and erased files. It includes user friendly interface and simple recovery steps with which even a novice user can also perform perfect restoration of Android data. Adding to this, using 'Preview' option user can view rescued data before saving it.
System Requirements
Supported Windows Operating System – Microsoft Windows 8.1, Windows 8, Windows 7, Windows XP, Windows Vista, Windows Server 2003 and Server 2008
Compatible Android OS versions – Android 2.2 Froyo, Android 2.3 Gingerbread, Android 4.0 Ice Cream Sandwich and Android 4.1 Jelly Bean
Hardware Requirements:

1GB RAM memory
50MB free space for installation
Both 32-bit and 64-bit OS types

Supported File Systems –FAT, NTFS, exFAT
Screenshots
Other Popular Software
This software can smoothly repair corrupted / damaged DOC and DOCX file and make it as a healthy and accessible Word file on Windows computer. Along with repairing, it will help to recover attributes of Word file within a short span of time.
Efficiently recover deleted or lost data from any version of Windows Operating System using the world class YupTools Recover Windows Utility. Data can be recovered from formatted / reformatted partitions.
© YupTools, All Rights Reserved - All other trademarks acknowledged