Diskpart to Manage Hard Drive Partitions
Using Diskpart is one of the easy ways to manage partitions on hard drive. You can create, format, delete partitions using Diskpart. But, do you know how to use Diskpart? Well, we are here to help you out with it. This page tells you how to use Diskpart / Disk Partition Utility to manage partitions on hard disk drive…

Download


Buy Now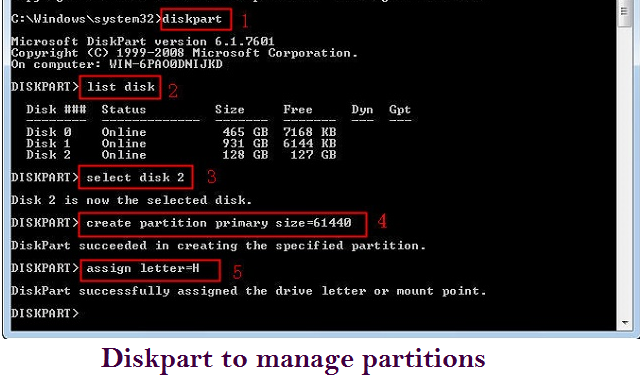 Create Partition using Diskpart:
In the command prompt window type diskpart.exe
In Diskpart command prompt, type list disk (Make a note of the drive number you want to employ.)
Next, type select disk 1 (The disk will be selected; ensure you type the disk number you want to employ from previous step)
Now type create partition primary size=10000
(To create extended partition, change the word PRIMARY to EXTENDED.)
Type assign letter = e (Select a drive letter not being used already.)
Type exit
Reboot the system and format newly created partition using format command
Format Partition using Diskpart:
Formatting the newly created partition is easy. The command to be used is format fs=ntfs quick
You need to use this command after assigning a letter to the partition
Eg: (Taken from create partition steps)
Type assign letter = e
Now type format fs=ntfs quick
Once the volume is formatted, type exit to close the program
Delete Partition using Diskpart:
In command prompt type Diskpart.exe
At Diskpart prompt type select disk 1
Now type list volume (all the volumes will be listed, select the volume number you need to delete)
Next type select volume 1
Now type delete partition
Finally type exit
There are few important things to be considered – Be careful while using Diskpart on dynamic disks. Also, make sure to backup hard drive before using Diskpart. You might lose data while formatting, extending, or partitioning hard drive. Suppose you haven't backed up hard drive before using Diskpart and ended up losing data, then are files lost forever? Don't worry, that's not the case. With the help of YupTools Hard Drive Recovery software, you can restore hard drive data after repartition, format, resize, and so on.
Steps to Restore Partition Data Lost after Using Diskpart:
Download YupTools Recover Hard Drive software on your system
Install and run the software
Select Recover Drives option from the main screen
In the following screen, choose between Partition Recovery or Formatted/ Reformatted Recovery option depending on the data loss situation
From the list of available disks, select the drive from which you have to recover data and hit Next
Once the recovery process is completed, you can preview the recovered files
Finally save the retrieved files using Save option
You can make use of YupTools Hard Drive Recovery application to retrieve data from unbootable drive, crashed hard disk, formatted partition, after reinstalling operating system, and so on. The tool is compatible with all Windows OS, including Windows 10. So it doesn't matter how you lost data from hard drive, this software comes to your rescue to efficiently recover files.
Other Popular Software
Utilize YupTools Recover Hard Drive Tool which will no doubt helps you in retrieving data like saved games from PS4 console; the toolkit works on OS like Windows 10, Windows 8, Winows 7, Windows Vista, Windows XP, etc.
Retrieve Data after Windows 7 Upgrade to Windows 10
Recovering data from Windows 7 after it is upgraded to Windows 10 is easy now with the aid of YupTools Recover Hard Drive Software; the app also recovers files from corrupted, lost and formatted Windows partitions.
© YupTools, All Rights Reserved - All other trademarks acknowledged