YupTools Fix MOV
Fix corrupt, damaged and broken MOV, MP4 files easily
Helps you fix MOV and MP4 files in a less time
Save fixed MOV files on user desired location / devices
Repair MOV, MP4 files recorded from various camcorders
Provides Preview of the repaired audio video files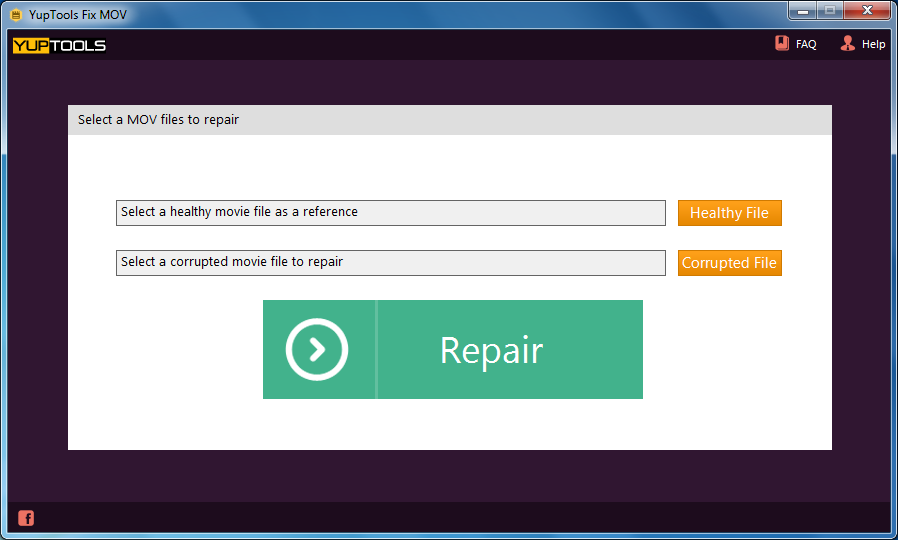 概要
.MOV is a common multimedia container file format developed by Apple's Inc. and is widely used in QuickTime media player. Also, this high quality video file format is compatible with most of the media players which run on both Macintosh and Windows based system. Sometimes such files fail to play at the time when you need them most. This is because, those files may be corrupted, damaged, inaccessible, unable to play, out of sync, and many others due to various reasons. So in order to repair MOV file YupTools has come up with the excellent repairing software known as YupTools Fix MOV. By using this app you can fix MOV video file in a couple of minutes. You can use this tool to fix .mov files on Windows PC and Mac OS X systems as well.
Let's see how MOV files gets damaged:
Improper File Transfer: If you don't carry out the MOV file transferring process in a proper way, any kind of interruption will leads to corrupted .mov files
Unsupported Media Players: When you try to play *.mov files on unsupported media players that time your MOV file may get corrupt or it may get damage, this will be due to incompatible Media players to the MOV file format
Unsupported Codecs: Sometimes codecs present in your system will not support, as this will results in codec errors and you will not be able to play those files without codecs, as a result of this, video files will deny to play
MOV Header File Corruption: If the header of the .mov file gets corrupted or damaged due to some reasons like usage of third party tool to edit, etc. Then there are possibilities that you will be unable to play MOV file in your system. Thus header file corruption may lead to MOV file corruption.
Corrupted Storage Device: Storage device will get corrupted when you use it on multiple system without scanning, due to this MOV files stored in that device will also get corrupted or damaged, ultimately files will refuse to play on any of the media players
Round Tripping: Frequently changing the file extension to other in order to play MOV files on different media players will corrupt the files and audio video will not be played properly
Using YupTools Fix MOV Software, you can:
Fix .mov files without facing any difficulties, as it is designed with very convenient UI(User Interface) even a person with no technical skills can use this tool for fixing broken or corrupt MOV video files
Repair MOV files present on internal hard drives and external drives like memory cards, flash drives, fire wire drives, iPods, digital cameras, camcorders, and other storage media
Easily fix MOV videos of high definition recorded from shot cameras, HD cameras, etc
Also fix MOV file issue of sound, header, audio out of sync, frame corruptions from MP4 and MOV file formats
Additional Features:
While fixing .MOV / .MP4 files, YupTools Fix MOV program will separate audio and video streams. Once the repairing process is completed it will adjoins it and gives back a healthy working MOV file
Allows you to "Preview" the repaired audio, video files
Using this utility, you can even fix MP4 files in an easy way
One can feel safe to download this software, as it is free from all sort of external threats like viruses
Forms a new repaired MOV file without damaging its original content
Moreover, software is compatible on both Mac based systems and Windows Operating System
YupTools will allow you to save the fixed MOV video file at a location of your choice. You can even store MOV files on external devices. Get in touch with our representatives, who will help you 24*7 regarding any issues related to YupTools software. So, Download Now!!
システム要求
Operating Systems:

Windows: Windows 10, Windows 8.1, Windows 8, Windows 7, Windows XP, Windows Vista, Windows Server 2003 and 2008
Mac: Mac Leopard 10.5, Snow Leopard 10.6, Mac Lion 10.7, Mountain Lion 10.8, Mac Mavericks 10.9 and Yosemite OS X 10.10

Hardware Requirements:

Memory Space - 1 GB RAM and more
Free Disk Space - 50 MB for Installation
System Type – 32 bit and 64-bit OS

サポートされているファイルシステム:

HFS+
HFSX
FAT16
FAT32
NTFS and NTFS5
スクリーンショット
その他の人気のソフトウェア
Need assistance in overcoming the unreadable error on your Zip file in Windows Operating System? YupTools has developed YupTools Fix Zip Application that can fix damaged or corrupted Zip file and extract all its contents without altering them.
Fix corrupt or damaged PPT files using fabulous repair tool named YupTools Fix PPT. This ideal software supports repair of PPT, PPTX, PPS files on both Windows and Mac system at an ease.